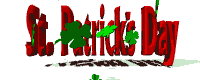 March 17th

The Luck of the IRISH!!
On St. Patrick's Day
May there always be work
for your hands to do
May your purse always carry
a shilling or two
May the sun always play on
your windowpane
May a rainbow chase after
each spot of rain
May the hand of a friend
always be near you
May God fill your heart with
gladness and cheer you
-an ancient folk blessing

May you always remember
all those who love you
and the many blessings
that fill your days


animated graphics by: The animfactory!
Background by The Office Pros!
Too Ra Loo Ra Loo ..... sequenced by Barry Taylor



Want to pass this page to family and friends!?!
CLICK EMAIL THIS PAGE!! HERE!!



Copyright © 1999 Vicki Russell RussellConnection
GO to Next or ..

or ..
GO to HOLIDAY pages

Send Comments to: Vicki




Back to World2

OR



Back to Russell's World
You are number
to visit this page!! Thank You!!







THIS banner does let you email several friends at a time ...
and it also takes you thru a couple of pages to introduce you
to MAILBITS..please choose ONLY what YOU want to choose!!
at the end ... YOU can click on URunforgettables PROSES and POEMS
and it will take you back to my site!!
THANK YOU FOR USING this EMAIL PROGRAM !!

##############################################