Happy Easter!!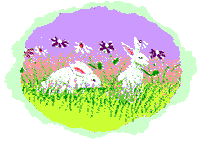 Easter blessings come to you
in the form of hope, peace and love.
wishing you the very best
that life can bring your way!
With spring in the air
new growth all around
we are reminded daily
that life starts fresh each day!

that thru the storm ..
or the times of turmoil
We always know that
sooner or later ...it shall end!
and the chance to try again..
to start fresh..
to make amends ..
is ours at the start of each new day!

So this easter ... find
the hope in tomorrow
the peace in your decisions
and the love in your heart
to know that with each new day
you can make today, the best day!
and tomorrow ...... well,
that is where dreams are made!!

God Bless you ... this Easter Season !!!


Copyright © 1999 Vicki Russell RussellConnection
GO to Next or ..

or ..
GO to HOLIDAY pages

Send Comments to: Vicki




Back to World2

OR



Back to Russell's World
You are number
to visit this page!! Thank You!!



THIS banner does let you email several friends at a time ...
and it also takes you thru a couple of pages to introduce you
to MAILBITS..please choose ONLY what YOU want to choose!!
at the end ... YOU can click on URunforgettables PROSES and POEMS
and it will take you back to my site's index1 !!!
THANK YOU FOR USING this EMAIL PROGRAM !!

##############################################