IT IS A BLESSED HOLIDAY EVENT!!!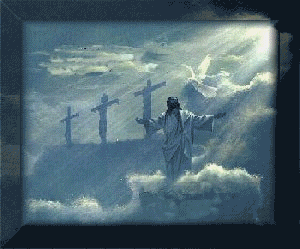 Our God is an awesome God
with great love and mercy
unlike any that we have ever known!!
Willing to send HIS only son
to die for us ... so that "WE"
could have everlasting life!
Who else do you know that
would do that for you!??
What a wonderful and unique sacrifice!

Some men and women have
given their lives for others;
great men have come and gone,
yet JESUS lives on.
Herod could not kill HIM,
Satan could not stop HIM,
Death could not destroy HIM,
the Grave could not hold him!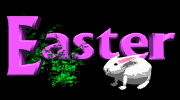 And although we get caught up in the
commercialism of easter this is still
the reason we celebrate Easter!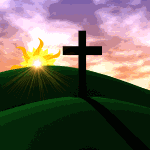 One day he will return not as
a suffering servant but with
power and glory to judge the
world. Then every knee shall
bow to HIM and every tongue
shall confess HIM as LORD!
OH what a wonderful day
that will be for one and all!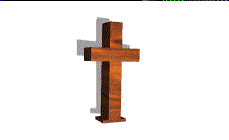 OUR LORD conquered death and
rose on the third day as he
said he would!
He ascended into heaven and
is now at the right hand
of the throne of GOD.
He is the perfect ONE,
the only ONE who can
satisfy the soul. HE gives
everlasting life to those
who love him and obey his
commandments. He is
altogether lovely, and to all
who are ready to accept and
believe HIM, God gives these
words of promise:

"As many as received HIM,
to them gave HE power to
become the sons of God,
even to them that believe
on his name." ----John 1:12
To SEE a TOTALLY AWESOME page ... go
here .... JOHN 3:16
you will need shockwave to view this page ..
you can down load here .. SHOCKWAVE


Copyright © 1999 Vicki Russell RussellConnection
GO to Mother's Day or ..
GO to HOLIDAY pages

Send Comments to: Vicki




Back to World2

OR



Back to Russell's World


I LOVE TO TELL THE STORY
You are number
to visit this page!! Thank You!!



THIS banner does let you email several friends at a time ...
and it also takes you thru a couple of pages to introduce you
to MAILBITS..please choose ONLY what YOU want to choose!!
at the end ... YOU can click on URunforgettables PROSES and POEMS
and it will take you back to my site's index1 !!!
THANK YOU FOR USING this EMAIL PROGRAM !!

##############################################