Passport To Heaven!!
General Information:
NOTE: You can not go anywhere with this passport!

Most people have a passport full of special things which
they hope will get them into heaven. Some have BAPTISM
stamped on their passport. Others keep a list of the good
things they have done in their passport, and HOPE that will
gain them entry to heaven.

IMPORTANT INFORMATION:

ENTRANCE REQUIREMENTS:
There is only one passport that will allow you to enter heaven:
JESUS CHRIST!

You can not get to heaven on your own strength because
sin has made a huge canyon between you and God. That
canyon can only be bridged when the penalty for sin is fully
paid. The penalty for sin is death.
STAMPS AND APPROVALS:
Since no one person could take the death penalty for all of us.
God himself arranged your rescue. He sent his only son, Jesus to take your place.
After a life of perfect obedience, Jesus died on the cross, and three days later God
raised him from the grave. After spending a few more weeks with his followers, Jesus
went to heaven where he is today.

ISSUED BY:
Your passport to heaven was issued by God himself. You do not need any more
special seals or stamps on your passport. Jesus' sacrifice was complete. His perfect
obedience has been placed in your account. The canyon between you and God has been
bridged!!!
DESTINATION:
All you need to do is accept the passport = take it .. and believe!!
If you accept the passport -- Jesus -- you will become a member of God's family
now and when you die you will be with him forever in heaven.

FEES:
You cannot find a better passport then that!! And IT IS FREE!!!!
If you are ready you can accept Jesus Christ right now .... HERE IS THE PRAYER:
"Jesus, I believe that you died for my sins and the sins of the whole world.
Today, I accept you into my heart. Make me your child, take care of me,
and help me from now on to follow you. AMEN. "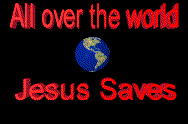 THE ROMANS ROAD!!! from KJV
Rms: 3:23 For all have sinned and come short of the glory of God.
Rms: 3:10 As it is written, there is none righteous, no, not one.
Rms: 6:23a For the wages of sin is death.
Rms: 5:12 Wherefore, as by one man sin entered into the world, and death by sin,
and so death passed upon all men for all have sinned.
Rms: 5:6 For when we were yet without strength, in due time Christ died for the ungodly.
Rms: 5:8 But God commendeth his love towards us, in while we were yet sinners, Christ died for us.
Rms: 1:4 And declared to be the Son of God with power, according to the spirit of holiness,
by the resurrection of the dead.
Rms: 6:9 Knowing that Christ being raised from the dead dieth no more,
death hath no more dominion over him.
Rms: 10:9 That if thou shall confess with thy mouth the Lord Jesus, and shall believe in thine heart
that God hath raised him from the dead, thou shall be saved.
Rms: 10:13 For whosoever shall call upon the name of the Lord shall be saved.
Rms: 8:38-39 For I am persuaded, that neither death, nor life, nor angels, nor principalities, nor powers,
nor things present, nor things to come, nor height, nor depth, nor any other creature,
shall be able to separate us from the Love of God, which is Jesus Christ, our Lord!



Want to pass this page to family and friends!?!
CLICK EMAIL THIS PAGE!! HERE!!


Copyright © 1999 Vicki Russell RussellConnection


GO TO ...

NEXT STOP: "If Jesus Came to Visit"

GO TO GOSPEL MUSIC !!


Send Comments to: Vicki




Back to World2

OR



Back to Russell's World
OR



Click here to visit Other Christian Themed Pages
Stepping Stones!

You are number
to visit this page!! Thank You!!