PEEK - A - BOO !!!!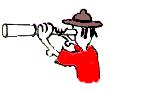 I SEEK YOU!!!!!!!!!!


You .. My ICQ Buddy
I am looking for you!!
Where ARE YOU!??!
Do you have any idea
how much you are missed
when you are not here!?!?

Well this is to let you know..
that I miss you .. and
I know when you are not here ..
When your name is not in blue
oh ... how I sit here....waiting
and waiting ............ and ...
yes ... waiting !!!!!!!!

I love our chats ..
I enjoy hearing about your day
good or bad ..
or just indifferent
doesn't matter to me!!!
I never knew that someone I had never met
could mean so much to me!!
Someone who I feel as close to as
someone that I have known all my life!
BUT YOU .. MY DEAR ICQ FRIEND
are one of my best friends!!
Thank you for coming into my life!
THANKS TO ICQ..........
this great program that allows us to meet
here in cyber space !!!!


want to visit OTHER ICQ SITES !!!........
go to THE ICQ GREETING PAGE ..



WHAT !?!?!.. YOU do not have ICQ ....
you do not know what you are missing!!!!!
GO here......... and download ICQ today !!!
The worlds largest FREE chat program!!!
Just Click HERE!>>>

<<<



This site is powered by the IrCQ-Net Chat Panel © 1999 ICQ Inc. All Rights Reserved.
Use of the IrCQ-Net Chat Panel is subject to the Terms of Service
You Are The One!!!


Copyright © 1999 Vicki Russell RussellConnection



GO TO ...

NEXT STOP: "A Time With You!!"




Back to WORLD2

OR



Back to OUR World
OR




Back to RUSSELL's WORLD of Gospel Music
OR


You are number

to visit this page!! Thank You!!