There is so many senseless crimes in the world today
so many people hurt and die each year .... why!??!
because of hate .. jealousy ... envy .. greed .. power ..!!??!
What is it that makes one human decide that it is
okay to hurt or take the life of another !??!
I believe that everyone is loved by someone ..
each life is precious to someone .. I know it is precious to God!
How I wish that life was precious to all of us and we
could learn to love one another and find value
in each one ... because each one is unique and
wonderful in their own way!!!
Isaiah 13:12 I will make a man more precious than fine gold; even a man than the golden wedge of Ö'phïr.
Isaiah 43:4 Since thou wast precious in my sight, thou hast been honorable, and I have loved thee:
therefore will I give men for thee, and people for thy life.
1 Samuel 26:21 Then said Saul, I have sinned, return, my son David: for I will no more do thee harm,
because my soul was Precious in thine eyes this day; behold, I have played a fool, and have erred exceedingly.
Psalm 116:15 Precious in the sight of the LORD is the death of his servants.



THIS page is dedicated to Casey Ryan Harmon!
Casey Ryan Harmon was born April 25,1977. He was killed on the job March 2,1998. He was joy to all who knew him. There's so much a Mother can say about her young son: how much I miss him; how very glad that he was in my life....But I don't know how to express all I feel in the right words, I want the world to know my son was a hero in his on way, he live a good and decent life of wanting to help others. He believed in what he was doing was what God had call him to do. Casey was deputy at a juvenile detection center in Tupelo, Ms. He was killed by a young 16 old boy, who had been picked up for shoplifting, who by the way was being released to his parents who were on there way to pick him up. It was such a useless, senseless waste of such a precious life that meant everything to me. My life will never be the same...HOW can I EXPRESS the loss and emptiness of a mother who loved her Son with all she knew..........................
-----Original Message-----
From: Lynn Harmon ..lynnharmon@midsouth.com
Date: Sunday, January 17, 1999 5:02 AM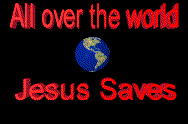 In The Garden